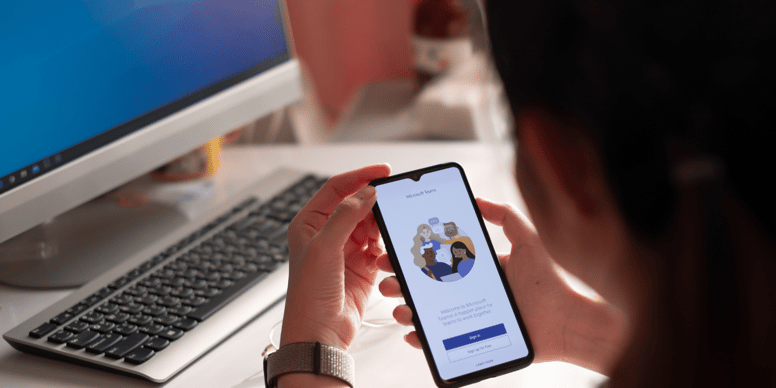 Microsoft Teams Call Center Features: What to Expect from a Teams Integrated Contact Center
By Geomant | June 21, 2021
We're all about creating brand loyalists for life
Learn how you can better benefit from your front line customer service representatives
With 145 million daily active users as of April 2021, Microsoft Teams has taken the world by storm. The Teams ecosystem delivers a reliable environment for productivity, collaboration, and communication in the digital workplace. It's no wonder companies want to bring Teams into more of the business technology stack – including the contact center environment.
On its own, Microsoft Teams has a handful of calling features offered via the Microsoft Business Calling ecosystem. However, to access a contact center within Microsoft Teams, companies need to work with experienced Microsoft partners, capable of expanding on the Teams environment.
A Teams integrated contact center is a contact center or "CCaaS" environment, embedded into the Microsoft Teams ecosystem via APIs and immersive connections. An integrated contact center brings all the features you need for a standard contact center, and more, into the familiar Microsoft Teams interface.
What Can a Microsoft Teams Contact Center Do?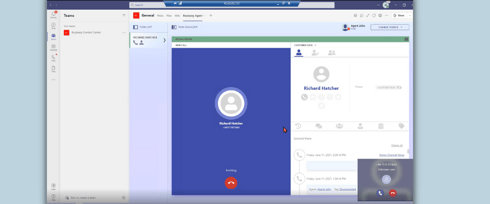 Microsoft partners like Geomant can deliver a host of Microsoft Teams call center features within your native Teams environment. By combining the simplicity of Microsoft Teams with the latest contact center functionality, your vendor can ensure you get a truly unified UCaaS and CCaaS experience, in a single pane of glass environment.
Microsoft enabled the creation of Teams contact centers when it introduced direct routing technology and Microsoft Graph access for vendors and resellers. Thanks to Teams' open environment, innovators can take Microsoft Teams functionality to another level, with combined UCaaS and CCaaS functionality in a convenient space.
Just some of the things you can expect from a Microsoft Teams integrated contact center include:
1. A Centralized Communication Environment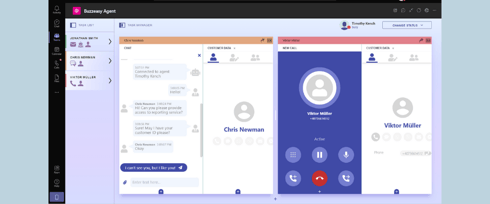 Perhaps the biggest benefit of Microsoft Teams integrated contact centers is that they allow you to transform Teams into your complete hub for communications. With support from a certified Microsoft Teams partner, you can transform Teams from a collaboration tool into a full business phone, UCaaS, and contact center solution.
A central environment for communication, collaboration, and customer service enhances business productivity, by aligning your teams in multiple environments. Service agents and specialists can collaborate together in the same shared environment. Companies can track the customer journey from end-to-end, and ensure employees aren't wasting time switching between apps.
The right integrated solution for Microsoft Teams will come with simple channel management solutions which align customer conversations from multiple platforms (all the way from voice to WhatsApp), in one space. This makes it much easier to handle contextual conversations with clients wherever they happen. An aligned backend also provides a more comprehensive view of the customer journey, with better opportunities for in-depth analytics.
2. Flexibility and Extensibility
One of the biggest selling points of Microsoft Teams is that it comes with an extensible, open environment. The Microsoft Teams ecosystem is primed for customization and scalability in a world where companies are evolving faster than ever. The best Microsoft Teams contact center solution will leverage and enhance this open environment, giving companies the ability to adjust their contact center however they choose.
For instance, your contact center provider will allow you to connect a range of communication channels to your Microsoft Teams environment, so you can deliver omnichannel service. An automatic attendant can then intelligently route calls to agents based on their skillsets. For companies looking to empower and augment agents, the open environment can allow for the addition of bots for self-service, insightful predictions, transaction management, and FAQs.
All the while, experienced vendors like Geomant, will ensure that businesses can constantly introduce new integrations and customizations to suit their needs, including connections to apps like Salesforce and Microsoft dynamics.
3. Excellent Agent and Supervisor Experience
When implemented correctly, Microsoft Teams contact centers promise a more streamlined and efficient experience for agents and supervisors alike. Leading solutions come with dedicated agent dashboards and applications, where team members can manage conversations with customers from multiple channels in one location, reducing confusion. The same environment, designed with users in mind, reduces the need for additional training with a simple user interface that's easily understood.
Supervisors and administrators also have an easier time supporting and managing employees in an increasingly remote and hybrid working environment. Supervisors can track the performance of agents in any contact center with real-time insights and analytics. Whisper and barge-in function also allow supervisors to jump into the conversation when necessary to provide training.
As the workplace continues to change with a focus on greater flexibility, a cloud-based Teams contact center supports home working with simple, streamlined experiences for every member of staff. Supervisors and contact center administrators should also be able to easily update and enhance business operations with new features on the cloud, like auto attendants and smart routing.
4. Excellent Analytics and Insights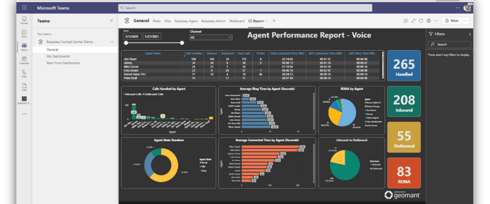 A powerful Microsoft Teams contact center solution can help you to build a more intelligent contact center experience. Aside from being able to segment and route your customers to the correct agent groups based on their needs, you'll also be able to give agents access to AI tools to assist with first contact resolution.
Analytics and insights can be implemented into the Teams integrated contact center experience too. For instance, Power BI reporting and BI analytics mean you can keep track of the metrics that matter most to you. Innovating contact center providers can even provide access to real-time wallboard reports. These dashboards conveniently display historical and real-time data from any enterprise data source in the Teams environment.
Wallboards supplement historical analytics by giving your agents a powerful way to track their performance compared to business benchmarks. These tools are also fantastic for supervisors looking to motivate and inspire their teams to new levels of productivity. The more information you collect, the easier it will be to create the kind of meaningful CX experiences your customers are looking for within your Teams contact center. You can even unlock tools like call recording to collect information for additional training strategies.
5. Endless Opportunity for Innovation
As mentioned above, the Microsoft Teams ecosystem, combined with contact center functionality delivered by a certified and experienced Teams partner, drives endless opportunities for growth and innovation. As your contact center provider delivers new features, you can expand and improve your contact center to address different needs. For instance, you may decide to implement evaluation forms and scoring strategies to track things like customer service satisfaction and NPS scores.
Companies keen to take advantage of digital transformation can automate their manual outbound calls to take some of the repetitive tasks out of the hands of their team members. Strategies like this make it easier and faster for agents to connect with customers while reducing the risk of errors.
Another option could be to implement flexible voice recording for compliance and training purposes. A flexible recording strategy will ensure that companies can collect valuable information about their customers and their needs, without compromising on compliance and security. The best contact center providers for Microsoft Teams will always provide excellent security and privacy peace of mind when implementing new updates for your CCaaS solution.
Unlocking the Potential of Microsoft Teams Contact Centers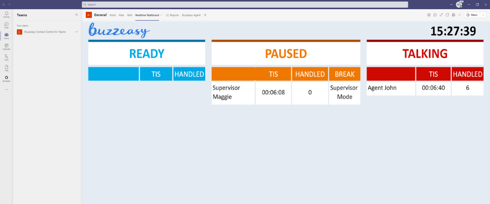 Microsoft Teams is one of the most powerful tools in the communication ecosystem today. However, it's still lacking a handful of features that would make the technology a comprehensive system for UCaaS and CCaaS management. The good news is that integrated Microsoft Teams contact centers can fill the gaps in your Teams ecosystem, giving you the complete environment, you need for better productivity, performance, and customer experience.
The key to success with an integrated Teams contact center, is choosing the right provider to make your technology dream a reality. A gold partner with Microsoft like Geomant will be able to deliver a CCaaS experience that feels natural and native within the Microsoft Teams environment. This ensures that teams can seamlessly transition from using Teams as their collaboration solution, to using it as a full CCaaS service.
With Geomant and the Buzzeasy Contact Center for Microsoft Teams, you get a fully omnichannel Microsoft Teams experience, with multiple inbound and outbound interaction channels to explore. You can track and manage conversations through voice channels, Facebook Messenger, WhatsApp, email, and many more, all without compromising on user-friendly functionality.
Our fully-featured contact center can adapt according to your needs, with proactive outreach options, smart voice and digital routing, 360-degree customer journey insights and more.
Build your Microsoft Teams integrated Contact Center with Geomant today.