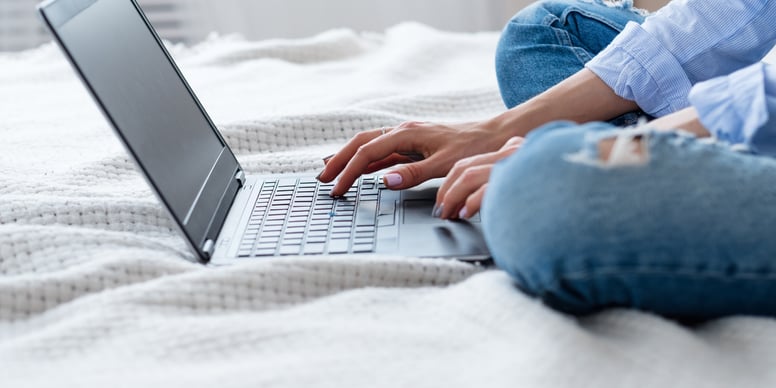 7 Microsoft Teams Contact Center Features for Managing Remote Agents
By Geomant | January 8, 2021
We're all about creating brand loyalists for life
Learn how you can better benefit from your front line customer service representatives
As the workplace grows increasingly digitized, tools like Microsoft Teams pave the way to better productivity, collaboration, and performance. With more than 115 million daily active users already discovering the benefits, it's hard to argue with the impact of Teams. Yet, many business leaders still struggle to see which features will help them manage their remote agents.
Microsoft Teams could open the door to the ultimate contact center solution in the age of distributed agents. Not only do you get the contact center features your employees require with the right Teams service, but you get a familiar platform for collaboration too.
The cloud-based functionality of Microsoft Teams contact center solutions provides a single pane of glass for easier collaboration, communication, and customer service. Here are just some of the features that will have the most significant impact on your remote team.
1. A single pane of glass for productivity
Microsoft Teams contact centers combine the tools your teams need for their contact center operations; with various assets they're already using. Within the right Microsoft Teams environment, business leaders can give their employees a single space where they can manage interactions across webchat, email, Facebook, SMS, WhatsApp, and more, without having to jump between services.
Team members can connect with customers and proactively reach out to potential buyers using their preferred communication channel. All the while, your staff members remain comfortable and focused in the environment that works best for them. Within Microsoft Teams, they'll have access to easy collaboration with team members, Microsoft Teams Wikis for information, and even tabs that offer instant access to integrations like Microsoft Dynamics and Salesforce.
2. Smart routing solutions
Through a contact center solution built for Microsoft Teams, companies can enhance the existing functionality of Teams as a UCaaS solution and add intelligent extras into the mix. For instance, with smart voice and digital routing, organizations can effectively segment their customers and route them to the correct agent based on priority attributes or staff skill level.
Smart routing solutions within Microsoft Teams allow for intelligent campaign strategies that keep your employees focused on the tasks they can accomplish best. You can even reduce the number of unnecessary calls routed to agents by accessing self-service AI chatbots that instantly answer simple customer questions and save your staff valuable time.
3. Supervisor Insights
In a world of remote and "anywhere" work, employers can't simply walk around the office to keep an eye on their team members. Supervisors and managers need a way to track their employees' productivity and performance wherever they are. A dedicated contact center solution for Microsoft Teams combines your staff members in the same environment, where you can monitor their actions.
Through features like Power BI reporting and real-time analytics, business leaders can even help to motivate their team members. Displaying valuable metrics and KPIs on wallboards for your remote and in-house workers will help keep your entire team aligned towards the right goals while inspiring staff to do their best work.
Better supervisor insights can also lead to improved strategies for employee rewards and recognition. When you know which team members drive the best results, you can celebrate their accomplishments with positive feedback.
4. Barge-in and Whisper Functionality
In the new age of remote work, business leaders will need to embrace new methods of onboarding and training staff members. Video conferencing and live-chat interactions through Microsoft Teams gives employees an easy way to ask for assistance in between calls. However, it's also helpful for supervisors to have a method of supporting their employees during contact center interactions too.
Geomant has introduced whisper functionality within the Microsoft Teams contact center, which allows a manager to step in and offer guidance to a team member when they're struggling with a difficult conversation. Geomant also offers the whisper feature for chat; a supervisor can send private messages or talk to the agent secretly to give extra guidance.
Barge-in functionality allows supervisors to listen in on calls or conversations with an agent and jump in when necessary. This feature is particularly useful for agents in training who may need extra assistance with complex calls or chat conversations.
5. Screen and file sharing
Microsoft Teams is an excellent solution for businesses that need to promote better collaboration between distributed teams. In the back-end environment, it allows employees to work together on tasks through shared files, video conferencing, and chat messaging. At the same time, Microsoft Teams can help employees to get a better insight into a customer issue by accessing screen-sharing functionality.
Employees can work together on the same issue through a shared screen and reduce the amount of time customers spend waiting for results from the calls. Clients can even start a conversation in a chatbox, and jump into video, or schedule a call-back after an agent has had time to work on a problem. Voice and digital channel alignment means managing complex problems is easier than ever for your entire team.
6. Customer Insights and Analytics
As an immersive solution for modern contact centers, Microsoft Teams tools don't just provide insights into the performance of your employees. The right solution can provide a single point of truth to help you make intelligent decisions about the customer journey. When you can intelligently manage all of your customer service channels in the same environment, it's much easier to get a full 360-degree view of client interactions.
Unified metrics across all channels will give business leaders an insight into potential gaps in the customer experience that could lead to issues with brand reputation. You can safely and securely collect useful information about your customers while adhering to the regulations that are crucial to your business.
Companies in need of compliant recording features can even access add-ons for their Microsoft Teams contact center that allow for safer recording.
7. Endless Expansions
Finally, flexibility is one of the most impressive features of Microsoft Teams. With the right contact center solution, you can expand and enhance your remote contact center operations however you choose.
Feedback from your work-anywhere employees may inform you that you need to invest more time into bots that can make it easier for them to automatically track down a customer's information through a CRM integration. Microsoft's flexible environment makes this possible with APIs and add-on applications.
Customer surveys and reviews could show you that your clients are spending more time interacting with your staff through SMS campaigns. This will indicate if you need to increase the number of employees you assign to deal with SMS service channels. With the right partner facilitating your Microsoft Teams contact center, adding custom elements into the mix is quick and simple. The Geomant Buzzeasy API architecture facilitates changes that are unique to your business.
Unlock the Potential of Your Remote Teams
Microsoft Teams has emerged as one of the most powerful tools for business productivity and collaboration today. For companies already investing in the Teams ecosystem, the decision to expand to a Microsoft Teams contact center is an easy one to make. Your Teams-based solutions have dozens of features available to help with managing and empowering your remote team.
The key to success with unlocking the true value of your Microsoft investment, however, is the right partnership. Working with a trusted provider of Microsoft Teams solutions, like Geomant, ensures that you can utilize the full benefits of the Teams infrastructure and discover the true potential of your flexible workforce.