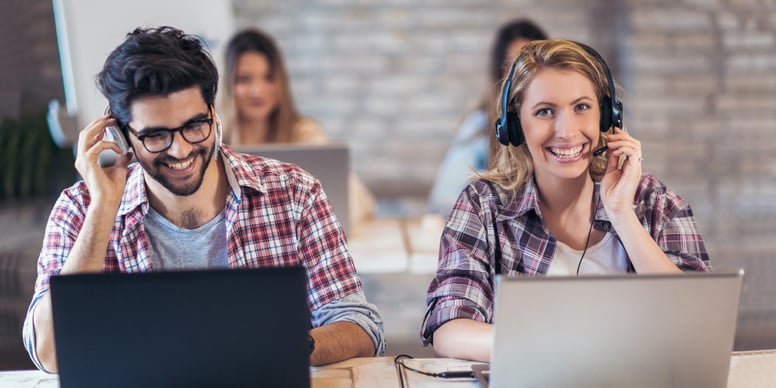 TEAMS CONTACT CENTER: EXTEND THE POWER OF COLLABORATION
By Geomant | March 18, 2020
We're all about creating brand loyalists for life
Learn how you can better benefit from your front line customer service representatives
Thanks to the rapid development of digital technologies, your customers have higher expectations of the organisations they do business with than they've ever had before.
They now expect to be able to engage with your company using their preferred channel, any time or day of the week, and they assume you will have all the answers to their questions immediately on hand.
Waiting on hold and being passed around the various departments in your organisation, with nothing but weak explanations to help them along the way, is no longer acceptable practice. The fact is, if you don't give your customers the level of service they need, when they need it, you can be sure that someone else will.
To meet these increased customer expectations, the very least your business needs is a unified communications system. This should extend all the way across your business to include the contact center, the point of engagement for all those demanding customers.
Introducing Buzzeasy from Teams
One team, one dream? Never has this saying been more apt than with the introduction of Buzzeasy for Teams from Geomant.
Buzzeasy is designed for companies who are currently using Teams or Skype for Business as their UC solution. Our new cloud-centered product allows you to introduce a Microsoft Teams contact center in line with the rest of the business. In this way, everyone in your organisation is seamlessly connected on a single platform.
Better still, this new product gives you the power that comes from cloud and multi-channel integration that includes the likes of WhatsApp and Facebook.
Enhancing your Microsoft 365 teamwork solution
The latest in a long line of solutions for Microsoft Unified Communications platforms from Geomant, Buzzeasy will help you increase capability and achieve an even better return on your investment for your Microsoft 365 teamwork solution.
13 million people are currently using Microsoft Teams as a collaboration hub and this figure is steadily increasing all the time, so extending its capabilities with the promise of improved customer interaction will certainly be welcome news for many.
So how does Buzzeasy achieve all this?
In a nutshell, our product transforms Teams into a multichannel contact center, enabling voice and digital customer interaction. Using the established Teams infrastructure, we have added a whole range of inbound and outbound interaction channels to extend the power of collaboration into your contact center.
Using the latest Cloud and Bot technology, Buzzeasy can revolutionise the way that customers communicate with your business. By automating customer engagement in the fastest and most cost-efficient way possible, the product enables customers to move from any digital channel to live voice at the simple touch of a button.
Features of Buzzeasy
Let's take a closer look at some of the features that make Buzzeasy such a compelling proposition for anyone looking for a unified communications platform that delivers increased functionality and flexibility.
For a start, you can segment, prioritise and route your customers to the appropriate agent groups using attributes collected at any stage of the customer journey. Leveraging AI to assist in first contact resolution, you will waste less time and resource fielding contacts from customers who have ended up in the wrong place.
This is not only good news for your business, of course, but also for frustrated customers who previously failed to get the help they were looking for.
A tailored solution for your organisation
Buzzeasy also makes it simple to connect to Critical Apps such as Microsoft Dynamics & Salesforce, as well as other business applications. Our 'API first' architecture means that the product can be tailored to suit the individual needs of your business.
That's because Buzzeasy is a range of integrated cloud-based solutions that can be used in isolation or combined to deliver the ultimate in CX. Each solution is designed to complement, rather than replace, what you already have.
Thanks to our new product, it will now be even easier to monitor the performance of your contact center with Power BI reporting and real-time analytics, including wallboards, that give you an accurate insight into what's working for you and what isn't.
Helping to smooth the customer journey, Buzzeasy (you can now hopefully appreciate how we arrived at the name) offers built-in proactive outreach using the customer's preferred channel.
In practice, this means that with your new Microsoft Teams contact center, you can switch between channels when required or reschedule with callback. Above all, you'll be better equipped to decide whether digital or voice is the best route to use for you and your customers.
360° customer journey
Of course, the fact that you have an instant view of each customer journey, consistently presented no matter which channel they use to make contact, means you can break down the silos in your business as you will be looking at one unified and easy-to-understand view of your contacts.
With a single solution that delivers chat across multiple channels such as email, webchat, Facebook, Twitter, Skype, SMS and WhatsApp, Buzzeasy offers a simplified and more effective channel management system.
This revolutionary product will be working for you even when your contact center is closed. With AI self-service and chatbots, you can answer your customers' questions 24 hours a day, seven days a week, without making them wait in a queue or until you open for business the next day.
To sum it all up for you in one sentence, Buzzeasy offers increased capability for your call center, seamless integration with the rest of your business along with in-queue and web callback, Bots, multichannel chat, customer surveys, SMS campaigns and voice and digital channel alignment.
What it all means for you?
Just think of the benefits that will come from the enhanced contact center functionality which integrates seamlessly with your existing collaboration platform.
With all the barriers broken down, you can offer a completely integrated experience for your customers across every channel, without giving them the impression that the left hand has no idea what the right hand is doing.
How good would it be to have your Digital Experience (DX), Customer Experience (CX) and Employee Experience (EX) strategies all working together as one? How far-reaching would the benefits of this new seamless integration be for your organisation?
Perhaps best of all, this is an investment that will keep on working for you from one year to the next. As a fully customisable solution, Buzzeasy offers future-proof capability for your organisation and enables you to develop effective business continuity planning. Highly flexible with multiple modules, our product makes it easy for you to scale up or down the features to perfectly match the needs of your operation.
With a highly efficient and flexible Microsoft Teams contact center in place, and the extra capability that it delivers, your organisation will be perfectly equipped to take advantage of all the business opportunities that lie ahead.
Take a look at the Buzzeasy Contact Centre for Teams, or why not book a demo?